Monday, June 27, 2011
Vintage ocean liner poster for the French Line's transatlantic flagship s.s. France of 1912, the company's only four-stack liner.


Posted by

Mark Jackson
at 6:25 AM
1 comment:

Labels: ad, advertising, france, french, line, liner, moffa, ocean, posters, retrocommunications, ship, transatlantic, transportation, vintage
Thursday, June 9, 2011
A reproduction of a vintage post card shows Place de la Concorde, Paris, France.
This item is of archival quality, high resolution, it has been retouched, recolored in areas, cropped and enhanced. This assures that your item will print with the highest quality possible. Rights Advisory: No known restrictions on publication.
You can CUSTOMIZE the size of the print and the selection of the frame to your personal preferences and your budget!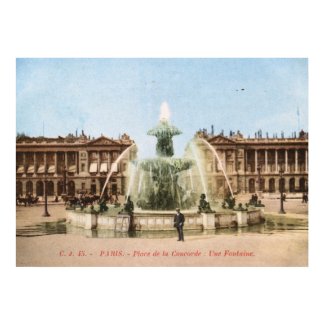 Place de la Concorde, Paris, France Vintage
by
markomundo
Become a part of Zazzle's
artist affiliate program
Posted by

Mark Jackson
at 6:01 AM
No comments: